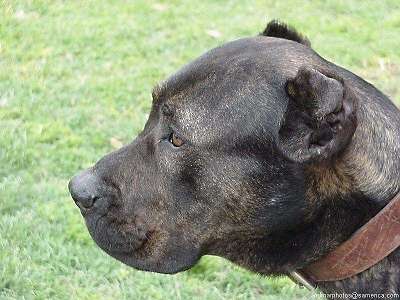 Apartments to rent on Parque Santiago 3

The Canary mastiff, known as the Verdino, has probably been on the Canary Islands for 2000 years. it is presently an unregistered breed, although the Spanish Kennel Club has recognised it and is setting standards by which to judge a true specimen.

The Verdino is a rustic, smooth-haired, heavy guard-type dog with a broad jaw, usually brindle coloured in stripes, or sometimes golden with white flashes on the chest. It weighs in at between 90 and 110 Ibs (40 and 50 kilos). At its best it is an awesome creature of obvious strength and it has all the characteristics of a dog which has for centuries been assiting man in all manner of agricultural work; it is affectionate to known friends, highly faithful, but it is also highly territorial.

The Verdino is championed as the true Canarian dog unique to the islands, possibly because it is yet another symbol of the independence of the islands from the mainland.

The history of these animals on the island has been sad at times. The conquistadores so feared these animals that they issused a law in 1499 condemning most of them to death. They managed to survive however, only to face another threat in the last century when the British and German dog-fighting enthusiasts settled in the islands, bringing with them the bull terrier. Dog-fighting is officially outlawed now and staged fights are rare. Lovers of the Verdino are also fighting to preserve the purity of the breed. Most are strongly opposed to selective breeding, but choose - with care and difficulty - mates that are not closely related, because of the dangers of interbreeding. Nowadays, the breed in guarded zealously and lovingly as they once guarded their masters. In Tenerife the Club Espanol del Presa Canario (presa literally means bulldog) arranges regular meetings and competitions of Verdinos, which take place in th emain square of La Laguna, in Geneto, Tegueste and other venues.

We offer a wide selection of Apartments to rent on Parque Santiago 3.