We can recommend holiday villas to rent in Puerto del Carmen. This four bedroom villa in the Los Mojones area of Puerto del Carmen is only a short walk from the resort and has a private heated pool surrounded by astra turf.
Villa Ariana
Out and About
There are many fine restaurants in the area, but it is worth particularly mentioning the restaurant Casa Cabana.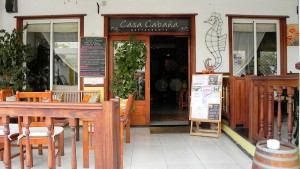 It has been awarded a Certificate of Excellence on Tripadvisor and has a 4.5/5 rating. The restaurant is situated on Calle Teide in the Old Town close to the harbour. Many people have commented and the excellent food and service. Also, unlike some other restaurants on the Canary Islands, you get real vegetables here, not just straight out of a tin. But it gets busy so be sure to ring ahead to book a table. They can also cater for special events such as weddings, renewal of vows, birthdays and anniversaries as well as offering special menus for Christmas Day and New Year.