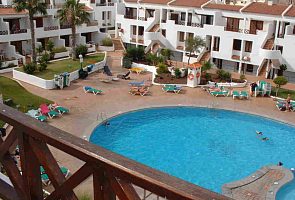 This popular complex is suitable for families and couples of all ages. Holiday makers return year after year because of the high standards of accommodation and excellent facilities. A bar/café (British Owned) is open 7 days a week serving hot meals, snacks and drinks at very reasonable prices. This is a quiet complex which does not suffer from late night noise. The swimming pool is heated in the winter.

Los Cristianos was once a small fishing village and although it is now highly concerned with tourism it still has not lost its charm, and is a delightful place to stay.



There are an abundance of shops along the pretty promenades and a profusion of outdoor cafes, restaurants and bars within the town centre. It also boasts of an excellent Sunday market. This picturesque resort is an ideal destination for families and couples of all ages, who appreciate a terrific all year round climate, either sight seeing, or beach holiday with beautiful food and lively atmosphere.

Victoria Court now has a lifeguard and night security guard.

There is a charge point beside the bar on Victoria Court I, for mobility scooters to be charged up.