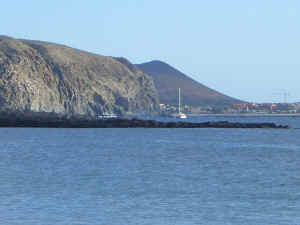 Los Cristianos is a family oriented resort and is the 2nd most popular after the neighbouring Las Americas, which is better known for the busy nightlife. Originally, Los Cristianos was an ancient fishing village and you can still see today some of the older fishing cottages on the sea front with their tiny doors. Bengt Rylander, a Swedish man, began the tourism trade here in 1956. He suffered from multiple sclerosis and came to Los Cristianos to convalesce. On returning home he persuaded more of his countryman of the good qualities of the place through the mild climate and fresh air and more Swede's followed suit. Later more people from other parts of Europe came to Tenerife. Through the 60s and 70s tourism grew further, particularly after the new Reina Sofa airport was built, just 15 minutes drive away. More hotels and complexes appeared, until Los Cristianos became as it is today, a busy tourist resort. It still retains a reputation for being a good place to convalesce through the Vintersol Clinic, located near Las Vistas beach, on the sea front.

The main town centre has been pedestrianised. The streets are lined with restaurants where you can eat in the open air. It is a joy to promenade through the large assortment, perusing the different menus as you go. The waiters are very friendly, and often offer free wine as an enticement to enter their eating house. There are a lot of very good fish restaurants, as well as Chinese, more traditional Spanish, and even a Burger King!

In addition to the resort of Los Cristianos, the San Eugenio area is also highly recommended. For a change, why not try this lovey apartment on Villamar which is right on the sea front and close to all the amenities.
There are 2 beaches in Los Cristianos. Los Cristianos beach is a sandy beach which is sheltered by the harbour. Facilities here include volley ball and trampolining. The newer beach, Las Vistas is a much larger beach. Again it is a golden sandy beach with water breakers in the sea, making it a safe place to bathe. Water sports are available here, such as jet-skiing, pedal boats, wind surfing etc. There are long lines of sun loungers laid out on the beach with sun umbrellas, which you can hire by the day.

Transportation is also excellent. There is a very good bus service. As it is a ferry port you can also take trips to the other islands such as La Gomera, El Hierro or La Palma (there is a daily service), as well as fishing trips, whale watching excursions, diving tours etc.